11.2020
AV Brass™ The new rustic brass with antiviral and antibacterial properties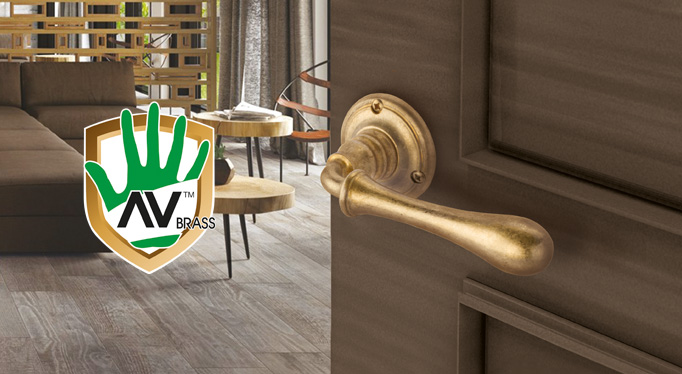 Recent global scale epidemics, like SARS and COVID, have put health prevention at the forefront of public debate and technology advancement, even in sectors like constructions and furniture.
Bacteria, germs and viruses settle and spread on those surfaces that are touched every day by a large number of people, like handles. Personal hygiene and frequent disinfection of spaces are still the first line of defence against viruses. But when it comes to handles, antibacterial and antiviral finishes are becoming increasingly important for public safety and health.
When facing these challenges, Reguitti and Jatec respond by pairing the exclusive Antigerm™ antibacterial finish with its latest "Rustic Brass" finish named AV Brass™.
Antiviral and antibacterial protection

AV Brass™ is the new rustic brass finish available on a vast range of Reguitti and Jatec handles. It is effective against germs, bacteria and even viruses like Human Coronavirus NL63 and Influenza A virus. Brass has always been the first choice material for the production of handles and accessories, also thanks to the great variety of finishes and surface treatments available on this material.
The special AV Brass™ finish has been proven to have antibacterial properties according to ISO 22196 and antiviral properties according to ISO 21702 (tested against human NL63 Coronavirus and Influenza A Virus). It is also resistant to salt corrosion and aggressive acids.
Klicken Sie auf die Schaltfläche unten, um die AV BRASS Brochure herunterzuladen
---
Contact us for more information.