Antigerm
Our health begins with what we touch
Antigerm™ is the first range of handles and accessories with unlimited antibacterial protection, the ideal solution for homes and all public places where hygiene is essential.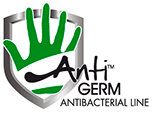 Antigerm™ is the exclusive Tyman International antibacterial treatment for handles. It is based on resin composed of silver ions and water-based varnish, and contains no chemical solvents. Antigerm™ is the ideal solution for applications where hygiene is critical, such as nurseries, nursing homes, schools, hospitals, leisure centres, hotels and laboratories.
The antibacterial treatment for handles | Antigerm™

Antigerm™ kills 99.99% of all germs and bacteria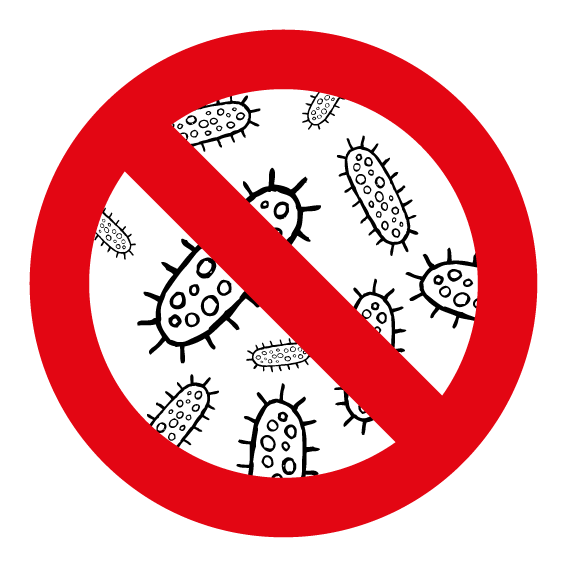 Statistics show that germs and bacteria are amongst the most common causes of disease. They live and proliferate on the most commonly used surfaces and are increasingly resistant to antibiotic treatment. Clinics, schools, nurseries and other public places are where handles are used the most, often by at-risk individuals such as children or elderly people. Bacteria and germs can settle and spread quickly over handles in these places, with the potential to cause serious illnesses.
In order to produce handles that are safe to use in every environment, Tyman International employs the latest antibacterial technologies and a dedicated chemical team. This concerted effort has led Tyman International to develop its own trademarked antibacterial treatment, Antigerm™, which works 24/7, requires no maintenance and kills 99.99% of all germs and bacteria.
How does it work?
The treated handles slowly release silver ions that kill more than 650 germ species in minutes, including Escherichia Coli, Legionella Pneumoniae, Salmonella Enteritidis and more. The ions are absolutely safe for humans, since they only attack germs and bacteria by blocking their reproductive capability.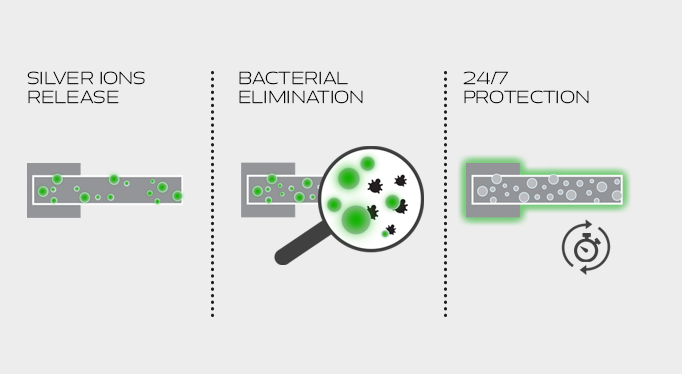 Antigerm™ treatment is available on a vast range handles. Please, contact our Sales Network for more info.
Antigerm™ has been tested by independent authorities
Antigerm™ antibacterial treatment for handles is certified by IMSL international laboratories (UK Industrial Microbiological Services Limited), in accordance with the requirements of the ISO 22196:2007 standard (Determination of Antibacterial Activity).
Antigerm™ antibacterial treatment was tested for salt spray corrosion resistance according to EN 1670 certification.
The Antigerm™ logo is a trademark registered by Reguitti in the European Union, Brazil, Switzerland, China, Israel, Japan, Norway and the Russian Federation.
The Antigerm™ antibacterial treatment is available on a vast range of Giesse, Reguitti and Reguitti Inox handles. Discover all the handles with Antigerm™ standard finishes in our digital catalogue.
Contact request
Contact us if you have a specific request.